Sadly on the 29th April 2021, James passed away in his sleep. Rest easy James and thank you for the wonderful memories.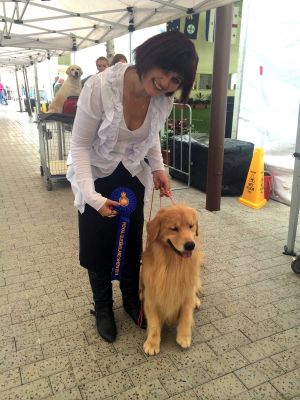 James is not only a Champion but was given the opportunity to be part of an article for the Ekka Promotion in 2014. It was an amazing experience and a great article.We are proud to have been part of this day.
Article:
Dog show people are serious people.
I realised this when golden retriever breeder Anthea Adamopoulos arrives for my Ekka experts session on dog grooming with a kit of hairdressing supplies that would make Stefanís eyes boggle.
Anthea is a golden retriever breeder, who shows her treasured brood at competitions around southeast Queensland....Read More Here
Achievements: WE DID IT!!!!! James is now a Supreme Champion and the youngest Golden Retriever Dog in Australia to make this title!!!!
James was named after the writer of the definition of "The American Dream"... James Truslow Adams. He has proven that the "American Dream" follows overseas as well. James is a multi "in group" and "In show" award winner.

Since James has been able to compete for a Challenge he was a threat to the older dogs for this award. James won the 2012 Rising Star in Golden Retrievers for Australia (DOL pointscore) and he is consistently pushing for more wins on his tally...Not just in puppy classes and puppy in groups but for Best of Breed level as well.

James made his Australian Champion Show Title in great style of a weekend with winning Best of Breed at the 2012 Melbourne Royal and also a Runner Up Best in Show at the International Dog show the next day. These wins were done at 13 months of age and he just seems to keep getting better and better and having more fun as we go along.

This boy continues to impress people...and myself. At present there are no limits for what this boy can achieve.

James is now retired from the show ring. He is now living with family in Brisbane. We have collected semen and stored it from him and at a future date we will be using it.
Critique on James given on the 6th October 2012.

"Judged the Gundog Group at the Kyogle & District KC Dog Show today. My group winner was a very nice young Golden Retriever, who came from the Junior Class.
This young dog represents the breed type very well. His head is strong and elegant, with excellent shoulder placement, movement, and side gait.
His Outline is so outstanding.
I am sure that he will do very well when he is fully matured. "


Ekarat Sangkunakup
International All Breed Judge

Critique on James given on the 7th October 2012.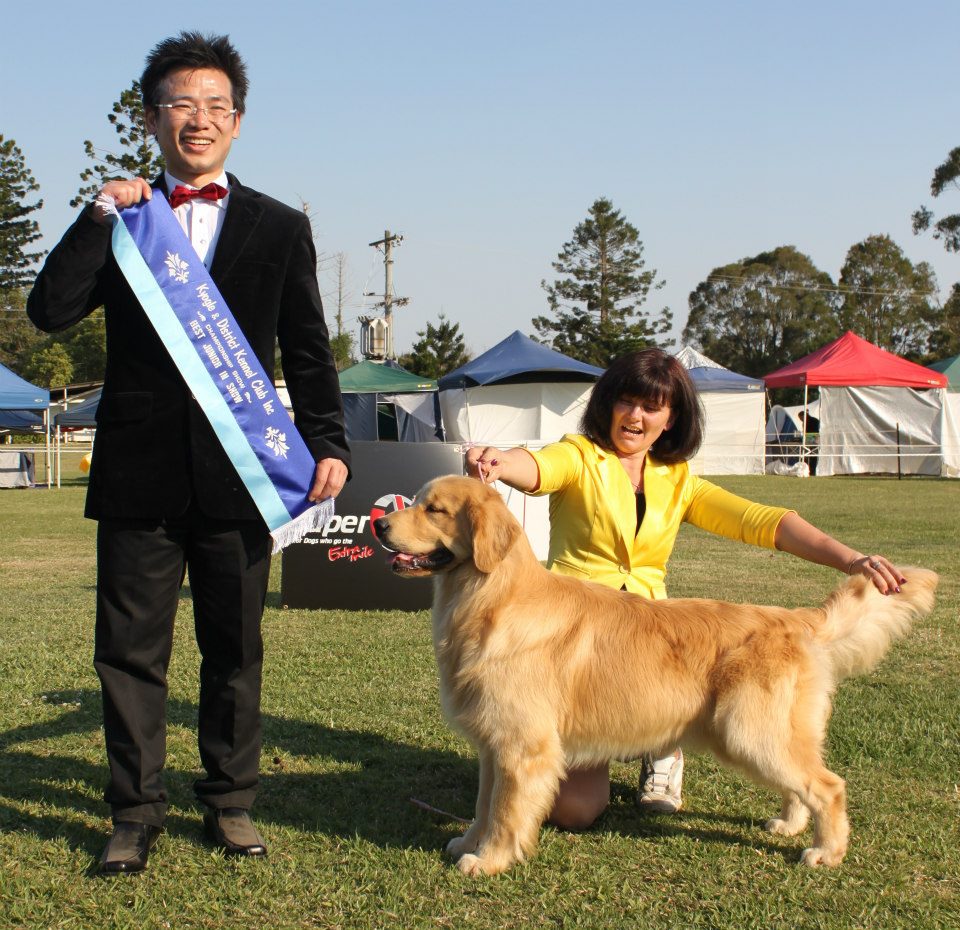 Pedigree

Parents
GrandParents
GreatGrandParents
SIRE

Dual Ch. Chipala American Dream Boy CCD UD RN (AI USA)


BISS Am-Can Ch. Nitro's Boy Wonder OS, SDHF, CGC, TDI (USA)


BISS Am. Ch. Faera's Starlight OS (USA)


Am./Can. CH. Nitro's Blaze of Glory C.G.C., T.D.I. (USA)


Aust Ch Gold-Rush's American Idol (Imp USA)

BISS AM CH Sunbeam's Private Party OS (USA)


Gold-Rush Come Fly With Me (USA)


DAM

Ch.Wysiwyg Cant Stop the Music


Aust Ch. Kingsgold True Grit CCD ET

Wysiwyg Pardn My Tail (exp. Indonesia)

Kingsgold Pina Colada

Aust Ch. Wysiwyg The Beat Goes On

Aust/Can/UKC Ch. Camelot Quapaw's To Oz&Back CCA (USA)

Aust. Ch. Wysiwyg Just Push Play